The GEROPLEX professional team is made of technicians specialized in various fields in order to offer a wide range of services suited to your requirements. Having taken part in training courses leading to certifications, its technicians are at the leading edge of progress. It guarantees you its mastery of the most recent techniques and is always on the look-out for future technologies.
Involved in infrared thermography for more than 15 years, GEROPLEX expands his scope of activity, some years ago, by offering services of concrete investigation with ground penetrating radar (GPR).




APPLICATIONS



There are several types of specific applications in the infrared thermography field. Most commonly solicited are insulation verification, roof inspection and electrical survey.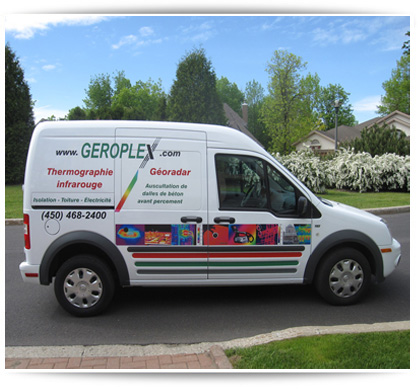 BENEFITS


Infrared thermography is ideal technology to identify building envelope problems, such as air leak, lack of insulation, moisture migration or moisture accumulation in roof systems. It is also very helpful to find hot spots caused by worn components in electrical system.